Inspiring.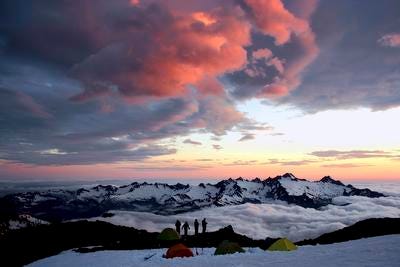 At Mount Baker, Washington. By Michael Kittell. Reprinted without permission.

Every so often I come across a picture that is so striking I just keep staring at it. This picture, the second place pacific northwest image in The Oregonian's 2008 travel photo contest, is one such image. I want to be there!
After reading the little blurb about the image in the paper, I went to the paper's web presence, OregonLive.com, where I was amazed to discover there is no permalink for the image. It only seems to exist in a pop-up window. Wanting to be able to share this image, I searched the web to see if Michael Kittell had it published on Flickr or another site.
While I was not able to find the image hosted anywhere, I did stumble upon a feature article (55 Peaks) in the Pomona alumni magazine and an interview with the Fresno Bee, both of which chronicle how the boyfriend-girlfriend pair of Michael Kittell and Taylor Smith decided to climb all 55 peaks over 14,000 feet in Colorado in 55 days in the summer between graduating from college and starting law school. That sounds like such a great adventure (and an inspiration to us all)!